Discover Huge Collection Of Diwali Quotes And SMS In English. Explore these Diwali Quotes in English. Enjoy meaningful and Insightful Diwali SMS in English For your beloved one.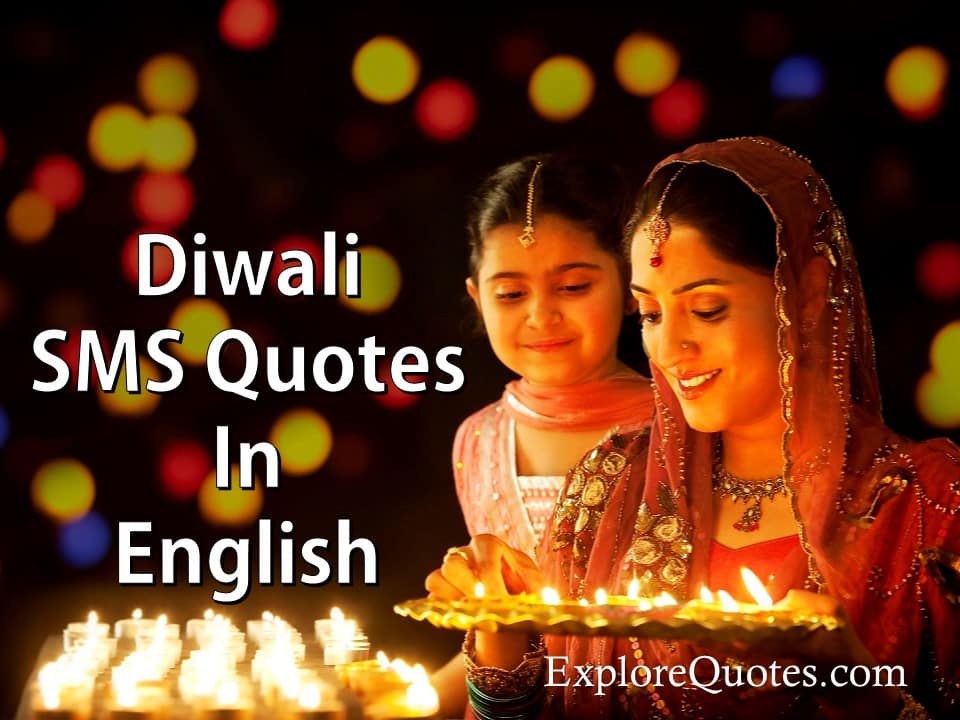 On This Auspicious Festival Of
Lights, May The Glow Of Joy,
Prosperity and Happiness Illuminate
Your Days In The Year Ahead.
Wishing Your and Your Family A Very
Happy Diwali and Prosperous New Year.
---
A Forst Card for you
*!'""'""'""'""'!*
*! .+""+.+""+. !*
*! + HAPPY + !*
*! "+. .+" !*
*! "+" !*
*! DIWALI !*
*!=============!*
---
Delightful Laddoos, Incandescent
Diyas, Whole Lot Of Smiles And
Laughter, A Big Stock Of Masti,
Lots Of Mithai, Innumerable
Fireworks, Wishing You Fun, Frolic
And Endless Celebration! Happy Diwali
---
This Diwali Let The Diya's
Be The Hearts Of People
Around You. Light Them With
Your Smile, Laughter And
Whole Lot Of Love. Wish
You All A Very Happy Diwali.
---
A Festival Full Of Sweet
Childhood Memories, Sky Full
Of Fireworks, Mouth Full
Of Sweets, House Full Of Diyas
And Heart Full Of Joy. Wishing
You All A Very Happy Diwali!
---
May The Auspicious Festival
Of Lights Brighten Every
Corner Of your World With
Glamoring Moment Of Happiness.
Wishing you N your Whole
Family A Very Happy Diwali.
---
A Very Happy Diwali To
you and Your Beautiful Family
May God Give you All That
you Want and Need In Your
Life Enjoy The Festival
With Lots Of Light..
---
Light For your Brightful
Future, Cracker For Ur
Demolish Of your Failure;
Rangoli For your Colorful
Life Happy Diwali..
---
My Warm Greetings To You
For Happiness, Peace,
Progress N Prosperity In
Your Life. Enjoy And
Celebrate.. Happy Diwali.
---
With Gleam Of Diyas and Das
Echo Of Da Chants May
Happiness and Contentment
Fill your Life Wishing you A Very
Happy and Prosperous Diwali!!
---
Sun Glows For A Day, Candle
For An hour, Matchstick For
A Minute, But A Wish Can
Glow Days Forever, So Here
Is My Wish For
Glowing Diwali, Glowing Life!!
---
May This Deepawali Blessed You
With More Creativity In Your
Work, More Prosperity In Your
Thoughts, More Love In Your
Family and Friends And More Peace
On This Beautiful Earth.!!
Wish You Very Happy Diwali.
---
Give 10 Things In Life
D = Dhan
H = Health
A = Anand
N = Nature
T = Talent
E = Enjoyment
R = Romance
A = Aitbar
S = Saubhagya
Wish You and Your Family
Happy Dhanteras..!
---
No Gift, No Sweet, No Flowers
No Decorted Cards
Just A Simple Diwali Wish But
Straight From Tha Heart
Happy Diwali To you And your Family.!
---
May The Festival Of Lights Encircle
Your Life With Joy And Happiness.
Success May Always Be At Your
Doorsteps. And May Goddess Lakshmi
Enter Your Home And Fill It With
iches And Abundance! Warm Wishes On
This Auspicious Festival Of Diwali!
---
Many Deepavali Festivals Have Come And Gone.
Yet The Hearts Of The Vast Majority Are
As Dark As The Night Of The New Moon.
The House Is Lit With Lamps,
But The Heart Is Full Of The Darkness Of Ignorance.
O Man! Wake Up From The Slumber Of Ignorance.
Realize The Constant And
Eternal Light Of The Soul Which
Neither Rises Nor Sets,
Through Medit

Good Fortune,
Purity,
Prosperity,
May Lord Ganesha Bless You
With All His Charms.
Today And Years To Come.
Wishing You A Very Happy Diwali.

May The Billion Sparkling Lamps,
Give Way To Your Path,
As You Do The Things You Dream,
Wish You And Your Family,
A Prosperous Diwali.
May God Bless You All.

The Array Of Beautiful Colors,
The Scent Of Flowers,
Diwali Is Finally Here,
Children Play And Crackers Are Heard,
God Bless You All.
Happy Diwali.

May This Cheer And Joy,
This Merriment And Mirth,
Of This Divine And Blessing Festival,
May Surround You Forever.
Happy Diwali.

Light A Lamp Of Love!
Blast A Chain Of Sorrow!
Shoot A Rocket Of Prosperity!
Fire A Flowerpot Of Happiness!
Wish you And Your Family "Sparkling Diwali

Happy Diwali.
With Gleam Of Diyas
And The Echo Of The Chants
May Happiness And Contentment Fill Your Life
Wishing You & Your Family Very Happy And Prosperous Diwali!

Sun Glows For A Day;
Candle For An Hour;
Matchstick For A Minute;
But A Wish Glows Forever.
Here Is My Wish For A Glowing Diwali And Glowing Life!
Happy Diwali.

Paying Respects To The Gods,
And Decorating For Them The Thali,
This Is What The Occasion Is All About,
This Is The Spirit Of Deepavali…

I Wish That The Only Time There Is Darkness
Around You Is When You Are Watching Your
Favorite Movie Or Sleeping Peacefully!
Happy Deepavali!

May Goddess Lakshmi Bestow You With Opulence And Prosperity;
Lord Ganesha Remove Every Obstacle From Your Life;
Lord Shiva Bestow You With Mercy And Compassion;
Goddess Parvati Give You Love And Devotion;
Lord Brahma Give You Wise Speech;
And Lord Vishnu Give You Peace And Truth!
Have A Blessed And Blissful Deepavali!

It Is Time You Clean And Decorate Your Homes For The Festivities. And In Is This Shopping Season, Shop Till You Drop, But Remember To Celebrate Diwali With Thoughtfulness. Stay Safe And Healthy This Diwali. We At India.Com Wish You A Very Happy Diwali!!

May The Glow Of The Diyas Light your Path Towards
Progress And Continued Sucess Happy Diwali
I Wish That your All Dreams N Expectations Come True.
May God Fill All Colors In your Life And
Make your Diwali The Most Remembrable Diwali.Happy Deepawali..

Fortunate Is The One Who Has Learned To Admire, But Not To Envy.
Good Wishes For A Joyous Diwali

Let Me Make Your Diwali More Colourful
With The Lights Of Wishes Of My Heart.
Happy Diwali..

On Diwali,
I wanted to send you wishes for a year filled with prosperity,
health and lots of fun! Hope you have a happy Diwali!

May you be blessed with happiness and well being to last through the year. Happy Diwali!

May you be blessed with joy
& well being to last through
the year. Happy Diwali..

May God shower his
choicest blessings on you.
Wishing you happiness, good
health & a great year ahead…
Happy Diwali…

Sending you smiles for every
moment of your special day,
Have a wonderful time & Happy Diwali.

May the festival of lights be the harbinger of joy and prosperity. Best wishes for Diwali.

Fortunate is the one who has learned to Admire, but not to envy.
Good Wishes for a joyous Diwali and a Happy New Year with a plenty of Peace and Prosperity.

Troubles as light as Air, love as deep as Ocean, Friends as Solid as Diamonds, and Success as bright as Gold… These are the wishes for you and your family on the eve of Diwali and EID. Eid ki Mubarakbadi aur Diwali ki Shubhkamana!

For This, Is A Special Time When Family
And Friends Get Together,For Fun.
Wishing Laughter And Fun To Cheer Your Days,
In This Festive Season Of Diwali And Always!!!!!!!!
"Happy Devali"

May the divine light of diwali
spread into your Life
peace, prosperity, happiness
and good health.

There's always something warm and bright, about this time of the year, when everything has a special glow, and hearts are full of cheer, that's why, this special greeting comes your way, to wish you all life's best, on Diwali and in the coming year, too.

As you celebrate this holy occasion, you are wished the brightest moments that Diwali can bring, lots of love and laughter to fill your days with cheer and a New year that is sure to bring you, the best of everything.

Diwali is the day to light the diyas,
Ignite the rockets and burst crackers,
But it's also the time to be safe,
From the fireworks and all the sparklers.

For this, is a special time when family
And friends get together, for fun.
Wishing amusement and fun to cheer your days,
In this diwali festive season.
Happy Deepavali

May this Deepawali bring you all a cracker with Joys, Firework with Happiness and Prosperity and Subh Laabh from Ganesh Ji. Happy Diwali.

Let us keep Diwali holding it close 2 our hearts for its meaning never ends and its spirit is the warmth and joy of remembering friends

May the joy, cheer, Mirth and merriment Of this divine festival Surround you forever. May the happiness, That this season brings Happy deepavali…..

Paying respects to the God,
And decorating for them the thali,
This is what the occasion is all about,
This is the spirit of Deepavali…….
On this diwali, I am sending you a diya of my love, I hope you will keep it lighted forever.
$-Happy Diwali!!-$