Are you looking for exploring best friendship sms to share with your beloved one? Then you are at a perfect place where you can discover the wide range of friendship sms which will help you express your feelings and cheer your friendship.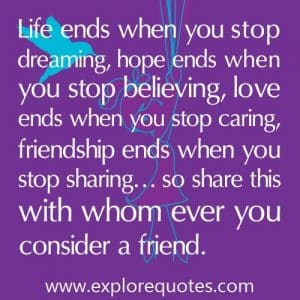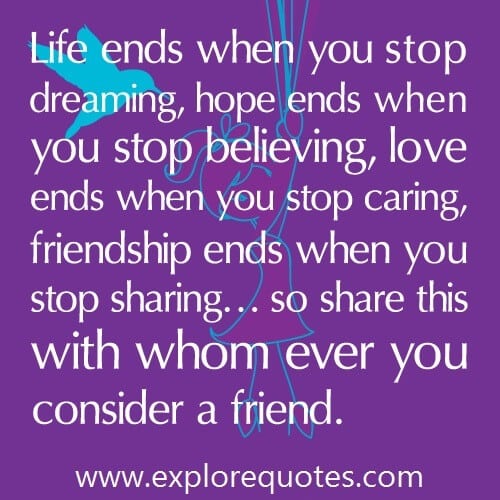 "Life Ends when you Stop Dreaming,
Hope Ends when you Stop Believing,
Love Ends when you Stop Caring,
Friendship Ends when you Stop Sharing…
So Share this With Whom Ever You Consider as a Friend".. !!
---
Thank you for touching my life
in ways you may never know.
My riches do not lie in material wealth,
but in having friend like you,
A precious gift from God.
---
When your friend lies to you,
It's not his fault!
Actually its yours..
Because you didn't give him
the proper space to tell the truth..!
('Shakespeare')
---
Definition of nothing….
Time doesn't wait for you or me..
Days pass and year change,
You miss me.. I miss you,
You moved away with your loved ones,
Your life changes,
Friends change,
People change,
But your heart has
Those precious moments engraved in it
If you want it or not,
They are always there,
Making you sad at happy times
and happy at sad times..
You think about those lovely
and happy days than smile 🙂
and when somebody asks you the reason for that smile..
You just say "nothing"!
---
---
Best Relationship is
.
.
.
.
.
When You Can Act Like Lovers
And Best Friends At The Same Time.
---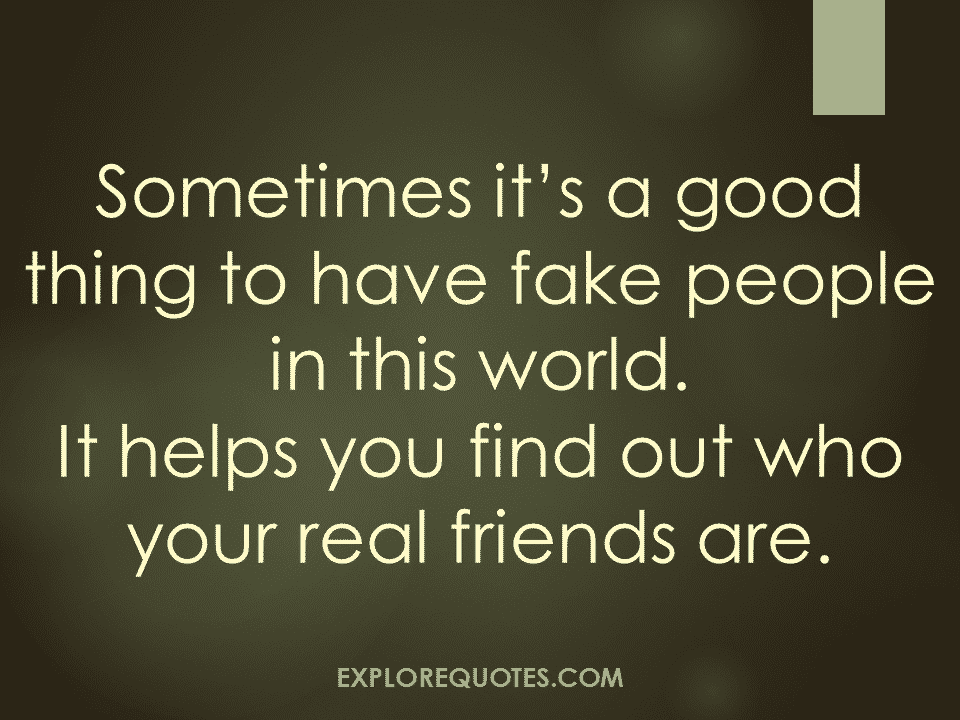 Sometimes it's a good thing to have fake people in this world.
It helps you find out who your real friends are.
---
So many straws, in 1 milk shake glass
So many fight, for thori si pepsi
So many hands, in 1 chips pack
So many friends, on 1 bench
So much laughter, on 1 stupid joke
So many phone calls, on birthday night
So many hugs, for 1 little worry
So many tears, for 1 little fight
---
'Friends', are the best part of our small life..
So don't lose and forget them at any cost.
---
I am Not Wealthy But I Have Rich Heart,
I am Not Best But I Will Try My Best,
I May Not Be Right Every Time
But I am Surely Not Wrong
To Choose You As My Friend!
---
Having Someone To Remember Is Pleasing Enough To The Heart,
It Doesn't Matter If You Remember Me Once In A While,
What Matters Is We're Friends At All Times.
---
---
My Friendship Is Not Like Rain
Which Comes And Goes Away,
My Friendship Is Just Like
Air Which Is Some Time
Silent But Always Around You.
---
Friendship is a wonderful word,
it might be the most beautiful one on earth.
Friendship is something powerful,
A gift of great value!
---
If Care Is A Wave, I Give You Sea.
If Respect Is A Leaf, I Give You Tree.
If Trust Is A Planet, I Give You Galaxy,
If Friendship Is Life, I Give You Mine for Free..
---
Out of all relations
Friends hold the best place.
No ego
No break-ups
No frustration
No commitments
Just sharing the best
and the worst too!
Remembering you,
my dear friend!
---
Think well,
Plan well,
Do well,
Sleep well,
Play well,
Laugh well and Throw
your mobile also into well,
Because you are not
Messaging me Well!
---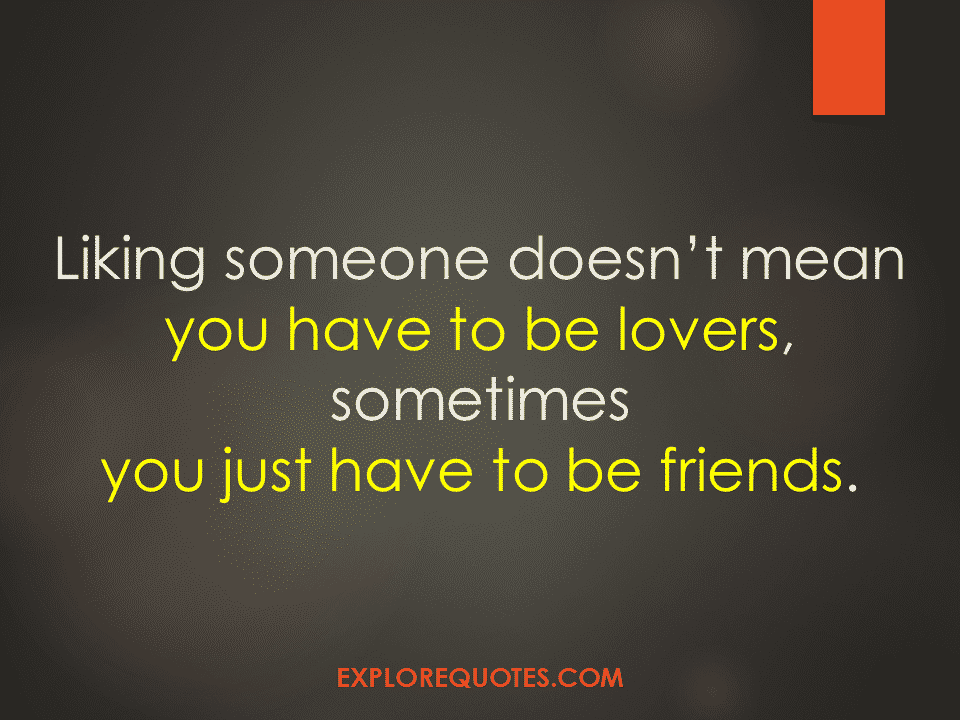 Liking someone doesn't mean you have to be Lovers,
Sometimes you just have to be Friends.
---
To meet a Friend Like you Is like ,
The delight of rain After a long Drought.
---
---
Difference between Good Friend and True Friend.
Good Friend comes to visit you in the hospital with flower and goes.
But
A True Friend sits near you and says:
yaar, Nurse ekdum mast hai,
aaram se theek hona. !!
---
Special Friends Means…
S= So Cool
P= Personable
E= Exciting
C= Cheers me up
I= Intelligent
A= Adorable
L= Loving
F= Funny
R= Reliable
I= Incredible humours
E= Enjoyable.
N= Nice
D= Dependable
S= Simple this is for You!!
---
Who says Facebook friends aren't real friends?
They enjoy seeing you on line every day,
Miss you when you aren't,
Send condolences if you've lost someone,
Give you wishes on your Birthday,
Enjoy the photos & videos you post,
Put a smile on your face when you're Down
And
Make you laugh when you feel like crying.
Share this if you are Grateful for Your Facebook friends.
---
To know you is an adventure,
To care For you is an art,
To listen To you is an honor,
To talk To you is a pleasure,
But To have you as my friend,
Is an absolute treasure!!!
---
Mother Terasa said :
"Do not expect your FRIEND to be a perfect person"
But,
"Help your FRIEND to Become a perfect person"
That's True Friendship!!
---
I am not your Heart, But I Miss you.
I am not your Family, But I Care for you.
I am not your Blood Relation..
But I am ready to share your Pain.
Because I am your BEST FRIEND
---
Hearts are many Sweet hearts are rare.
Lovers are many True love rare.
---
your names are many
But
Your one and only one for me as special friend.
"HAPPY FRIENDSHIP DAY"
---
Friendship is crossed cheque of Rs.HAPPY/-
When you feel upset and alone,
Withdraw from My A/c.
when you are too happy,
Deposit in my Heart.
Happy Friendship Day
---
Remembrance is the sweetest flower
in the garden of friendship.
A friend is a person
who never think of the last 3 letters
of the word FRIEND!!
---
Heart could only love for a while,
Feet could only walk for a mile,
Clothes wont forever be in style,
but having you
as my friend is forever worthwhile!
---
When Life Becomes Lonely,
Just Call Your Friend and Shout…
How Dare I Feel Like this,
When You Are On Earth..!!
---
A friendship doesn't Shine by just Shaking Hands
in the Best of times
But It blossoms
by Holding Hands Firmly in Critical Times..
---
True friendship comes when
silence between two people becomes a language
And both of them understand that..
Even being apart,
they are always close at heart..!!
---
If you open my heart,
guess what you are going to see?
It's you.
True friends are hard to find so I kept you.
---
Everybody wants Someone Special.
Someone Innocent.
Someone Nice.
Someone Cool.
Someone Sweet.
Someone Cute.
Someone Intelligent.
But Yaar!
Why Always ME, ME & ME?
---
Friendship is not a word,
not merely a relationship.
It's a silent promise saying,
"I was", "I am" and "I will be".. !!
---
It takes your enemy and your friend,
working together, to hurt you to the heart:
The one to slander you
and the other to get the news to you.
---
Anyone can make you smile or cry
But it takes someone special
to make you smile
When you already have tears in your eyes.
---
The sacrifices of friendship were beautiful
in her eyes as long as
she was not asked to make them.
---
No matter how far you take it with your friends,
whether you are fighting with them
or you hate them for two months,
you just really need them,
because they are the ones
who teach you the most about yourself.
---
Sometimes I think it is of no use to make friends.
They only go out of your life after a while
and
leave a hurt that is worse
than the emptiness before they came.
---
Real loss only occurs when
you lose something
that you love more than yourself.
---
Growing apart doesn't change the fact that
for a long time we grew side by side;
our roots will always be tangled.
I'm glad for that.
---
It is easy to say how we love new friends,
and what we think of them,
but
words can never trace out
all the fibres that knit us to the old.
---
Trust is hard to come by.
That's why my circle is small and tight.
I am kind of funny about making new friends.
---
When you choose your friends,
Don't be short-changed
by choosing personality over character.
---
You meet people who forget you.
You forget people you meet.
But
Sometimes you meet those people you can't forget.
Those are your friends. !!
---
Make new friends,
But Keep the old;
Those are silver,
These are gold. !!
---
Each friend represents a world in us,
A world possibly not born until they arrive,
And
It is only by this meeting that a new world is born.
---
True friendship multiplies the good in life
and divides its evils.
Strive to have friends,
for life without friends is like
life on a desert island…
To find one real friend in a lifetime is good fortune;
To keep him is a blessing.
Happy friendship day !
---
In this world,
where everything seems uncertain,
Only one thing is definite.
You all will always be my friends,
beyond the words,
beyond the time & beyond the distance!
Happy friendship day!!
---
If ever there comes a day
when we are not together…
There is something you must always remember.
You are braver than you believe,
Stronger than you seem,
and
Smarter than you think
but the most important thing is,
even if we are apart…
I will always be with you. !!
---
A friend accepts us as we are yet helps us
be what we should be;
A friend affirms us
when we are weak and
gives us strength to let us free.
---
The rule of friendship means
there should be mutual sympathy between them,
Each supplying what the other lacks
and
Trying to benefit the other,
Always using friendly and sincere words.
---
One measure of friendship consists
not in the number of things
friends can discuss,
but in the number of things
they need no longer mention.
---
True friends are those
who came into your life,
saw the most negative part of you,
but are not ready to leave you,
no matter how contagious you are to them.
---
No matter how busy you are,
or how busy you think you are,
the work will always be there tomorrow,
but your friends might not be.
---
Too many times in life
we are too busy looking for what we want
that we are blind to the fact that
we already have all we need.
Family, Friends and Love. !!
---
The greatest sweetener of human life is friendship.
To raise this to the highest pitch of enjoyment,
is a secret which but few discover.
---
True friendship can afford true knowledge.
It does not depend on darkness and ignorance.
---
Friendship is unnecessary, like philosophy, like art…
It has no survival value;
rather it is one of those things
which give value to survival.
---
Friendship is comfort knowing that
even when you feel all alone, you aren't.
---
Sometimes being a friend means
mastering the art of timing.
There is a time for silence.
A time to let go and allow people
to hurl themselves into their own destiny.
And
A time to prepare to pick up the pieces
when it's all over.
---
Anybody can sympathise with the sufferings of a friend,
but it requires a very fine nature
to sympathies with a friend's success. "
---
Confidence is the foundation of friendship.
If we give it,
we will receive it.
---
Much of the vitality in a friendship lies in
the honouring of differences,
not simply in the enjoyment of similarities.
---
No matter who broke your heart
or how long it takes to heal,
you will never get through it
without your friends.
---
Life is hard as it is.
Too many rough roads to Travel.
Too many chains to untangle.
But
No matter how cruel the world maybe,
Life becomes less hard
when you got a good Friend.
---
The glory of friendship is
not the outstretched hand,
not the kindly smile,
nor the joy of companionship;
---
it is the spiritual inspiration
that comes to one
when you discover that
someone else believes in you
and is willing to trust you with a friendship.
---
It is one of the blessings of old friends
that you can afford to be stupid with them.
---
Silence make the real conversations between friends.
Not the saying,
but the never needing to say that counts.
---
One of the most beautiful qualities
of true friendship is
to understand and
to be understood.
---
Friends are those rare people
who ask how we are
and then wait to hear the answer.
---
A real friend is a Smile when you are sad,
Hope when you are disappointed,
Guide when you are lost,
Song when you are happy,
Company when you are lonely, n
Help when you are helpless.!!
---
Friendship is a network that needs no recharging,
no roaming, no validity,
no activation, no signal problem,
just don't switch off your heart.!!
---
New friends are like poems
but old friends are like alphabets
Don't forget your old friends because
you always need alphabets to read poems.!!
---
Win a heart which never breaks,
give a smile which never hurts,
give a touch that never pains,
make a friendship that never ends.!!
---
Like bread and butter,
like shirt and button,
like printer and paper,
like vehicle and tyre,
rising all odds
let our friendship prevail.!!
---
If you read this message, you owe me a hug.
if you delete, you owe me a kiss.
if you save, you owe me a date.
if you reply, you owe me all, but
if you ignore, you are mine.!!
---
You know you are best friends when
you both notice something,
think the same thing,
then look at each other and burst out laughing.!!
---
A friend is sweet when it's new.
It is sweeter when it is true!
But you know what..?
It is sweetest when it is you.!!
---
Birth is the start of life,
Beauty is the art of life,
Mystery and risk are part of life,
But a sweet person like You is heart of life.!!
---
What is real but invisible?
Your care!
What is true but unfair?
Your absence!
What is sweet but naughty?
Your smile!
N what is precious but priceless?
Your friendship.!!
---
Alone i can only say
but together we can shout.
Alone i can only smile
but together we can laugh.
Alone i can only live
but together we can celebrate.
That's being together.!!
---
Being a friend is not just sharing a joke,
a conversation, a cup of coffee, or a funny story.
It means sharing an honest and
true part of yourself.!!
---
A true friend knows the right time to praise,
the right time to listen, and the right time to rebuke.
He knows when to come and when to stay away.
A true friend masters the art of timing.!!
---
When people receive my messages,
they think that i am addicted 2 messaging.
But they are wrong..
because they don't know that,
I am addicted to hold relationships.!!
---
I was on ship thinking of you,
when i looked down i dropped a tear
into the ocean
then i promisd myself
that until someone finds it
i won't forget you.!!
---
Time would make us forget some persons,
but there would be some persons
who would make us to forget time.
They are our best of best friends..
JUST LIKE YOU.!!
---
Making relation is very simple
but keeping it is very difficult.
If i fail anytime
give me grace marks &
promote me bcoz
i don't want to lose friend like YOU.!!
---
A melodious vocal, a joyous cheer,
rain is dancing like a sufi prayer,
i may have a number of friends,
but you are always special, my dear.!!
---
Friendship may be old,
friends may be new,
true friends are very few,
so whenever u r lonely
remember it's true that
someone somewhere is thinking of You.!!
---
When things go bad and
your strength is no longer enough to carry on,
don't give up because..
where your strength ends..
my worth of being your friend begins.!!
---
Everyone has a best friend
during each stage of life BUT
only lucky ones have the same friend
in all stages of life.!!
---
Forgetting you is hard to do,
forgetting me is upto you,
forget me not, forget me never
and you will have a best friend forever.!!
---
Never ignore The effort of a person
who tries to keep in touch with you
Because
it's not all the time someone who cares.
---
Friendship is like a tree,
it demands attention and care in the beginning,
but once it blossoms,
it provides u shade in every situation of life.!!
---
Good Relations are just like "Water"
No Colour , No Shape,
No Smell, No Taste.
But Still Very Very "Important" For Life.!!
---
A strong friendship doesn't need daily conversation;
doesn't always need togetherness,
as long as the relation lives in the heart, true friends will never part.!!
---
Age is an end at any time.
Love is an end at marriage.
Life is an end at death.
But lovable friendship is always going on.
Never ending.!!
---
One say friendship and love met.
Love asked why do you exist when i am here.
Friendship answered i am here to leave smile
where you leave tears.!!
---
Whenever i sit alone,
i just look at my hands and
see the criss-cross lines and
wonder which special line made me so lucky
to have a friend like you.!!
---
Dedicated to special people in my life..
I say crazy things when i am hyper
but don't do them..
I say stupid things when i am angry
but don't mean them..
I say hurtful things when i am hurt
but i didn't mean to hurt you..
I say silly things without thinking
but laugh at myself later..
To my friends who ignore my crazy talk and
laughat my silliness..
Thanks for accepting me the way i am..
Am glad i met you in this beautiful journey called LIFE.!!
---
Small anger, silly fights,
simple sms, serious jokes,
sesitive feelings, senseless talks,
million sorries..
People think it's madness
but we call it Friendship.!!
---
Messages are not for time paas.
They silently say that
i am thinking of you right now &
also making you to think of me for a moment.!!
---
Not all the time I can be with you,
Not all the time I can please you.
Not all the time I am available for you to talk to,
But one thing is for sure,
i will care for you even when you don't expect me to.!!
---
Never ignore a person
who loves you,
cares for you,
and misses you
because one day
you will realise that
you have lost a Diamond
while collecting stones.!!
---
What is real but invisible? Your care!
What is true but unfair? Your absence!
What is sweet but naughty? Your smile!
And what is precious but priceless?
Your friendship.!!
---
Who am i?
a step when you are stopped,
a touch when you are lost,
a word when you are quiet,
a smile when you are sad,
a shoulder when you cry, &
a friend who would be there always.!!
Can I spell s_ccess without u?
or c_te or h_mble or f_n or f_t_re
or even tr_st.
What will i do without u?
I proud a friend like you.!!
---
Best lines said by a friend
"I cannot promise to solve all your problems
but
I can only promise that
I will never let u face them alone".!!
---
GOD created good heart, you got it..
He created good brain, you got it..
He created good face, you got it..
He created a good friend, but this time I got it.!!
---
Friendship is like a violin,
music may stop now and then,
but strings are attached forever!
Likewise you may be in touch or not,
but you are always remembered.!!
---
A good friend will always have
some time for you in his calender,
but
A best friend will adjust his calendar
according to your need.
---
A Best friend is the only mirror
that can show you all of your good and bad things
and that's why you should always have one.!!
---
If a good friend
sees you crying due to any pain,
he will try to support you,
but
A best friend will start crying
just because you are in pain.
---
If you have a best friend
you are a lucky person,
If you have two of them,
No one can be as lucky as you,
But
if you think you have more than two best friends
then you are living in a world that does not exist.
---
No distance of place Lapse of time
Can lessen the Friendship Of those
who are Thoroughly persuaded each other's worth.!!
---
My Friendship Means
A Little Heart That Never Hates
A Cute Smile That Never Fades
A Smooth Touch That Never Shakes
A Strong Relation That Never Breaks.!!
---
A true friend is someone,
you can disagree with
and still remain friends For if not,
they weren't true friends in the first place.!!
---
In life, we meet a lot of people,
but make friends with few
in those few some touch our life
in such a way that their presence is felt in their absence.!!
---
The 10 qualities of perfect friend
1 great & brave heart
2 sweet & soft voice
3 sharp & fast brain
4 cute & stupid smile
5 loving & caring
6 confident
7 attractive
8 deep connectivity
9 power of speaking truth
10 power of hearing lie about their self.!!
---
A moment of joy spent under a willow,
The tear of eye that wets your pillow,
Sometimes pain,
Sometimes pleasure,
When given by Friends,
Both are treasure .!!
---
If you need a friend and
there are a hundred steps between us,
you can take the first step to get near me
and I will take all 99 step to be there for you.!!
---
Don't love a friend like a flower,
Because a flower dies in season.
Love them like a river,
Because a river flows forever!!
---
Friendship opens many doors each with a different
view but none could be more beautiful view
than the door that leads to you.!!
---
As long as we have memories,
yesterday remains,
as long as we have hope,
tomorrow awaits,
As long as we have Friendship,
each day is never a waste.!!
---
Life is like a novel,
Many chapters read and forgotten,
But there is one I won't forget,
It's the chapter,
"I met you and we became friends".!!
---
A true and caring friend,
Doesn't have to speak loud,
A soft SMS is just enough,
Because it is not the mouth,
That really speaks but,
It is the heart that feels.!!
---
Your validity of being my friend,
is going to be expired today,
please recharge your friendship immediately,
by delivering 4-5 sweet & cool SMS…So hurry.!!
---
24 sweet hours make 1 sweet day,
7 sweet days make 1 sweet week,
4 sweet weeks make 1 sweet month,
But one sweet friend like 'you',
Make my whole life sweet.!!
---
A lovely star dropped on earth one night,
Asked me u want a million dollar or a good friend?
I chose to have million dollars,
Because I already have you .!!
---
God was too wise to make friends,
Without price tags otherwise,
How much would a friend like you cost,
Where could I get the money to buy you?.!!
---
A friendship is like a winding road,
You never know where it is going to go.
But there is something that I do know,
Which is that our friendship will continue to grow.!!
---
A friendship is like a winding road,
You never know where it is going to go.
But there is something that I do know,
Which is that our friendship will continue to grow.!!

---
Roses are exclusively for,
A nice person like you,
From a simple person like me,
Keep this rose until they dry,
But keep my friendship until I die.!!
---
When things turn out,
Bad and your strength is,
No longer enough to carry them,
You must never give up,
Cause when your strength ends,
My worth is your friend begins.!!
---
Behind your smile I know there are sorrows,
Behind your laughter I know there are tears,
And I want you to know that behind you
I am always there for you…Friends Forever.!!
---
Friendship is not something,
that happens at first sight,
It happens when you start,
knowing each other and in turn,
End up needing each other,
For every feeling,
for every thought and for every moment.!!
---
I dropped a Tear in the ocean,
while Thinking of You,
And I Promised to be,
Your friend Till I find it,
Now did you know how long,
I need your friendship.!!
---
Friendship is a collection of hearts, Ready to give,
share and understand,
It never fades & never ends,
It only reminds us that life is,
not perfect without a friend.!!
---
I Say and You Listen, It's a Good Friendship.
You Say and I Listen, Is a Better Friendship.
But I don't Say and You Understand, is "Best Friendship.!!