Love is possible after friendship
but friendship is not possible after love
because
medicines work before death
later nothing can be cured !!
I will walk with you in every step of life
but just promise me
you'll hide your wings
every time we walk together,
Because I don't want the world to know
that my friend is an Angel. !!
Alone we can do so Little,
Together we can do So Much.
Never abandon old friends.
They are hard to replace.
Friendships is like wine:
it gets BETTER as it grows OLDER.
Just like us…
I get BETTER, You get OLDER !!
It's not an achievement
to make 1000's friends in a year,
but
An achievement is when
you make a friend for 1000's years. !!
Age appears to be best in some things.
Old wood best to burn.
Old books best to read.
Old rice best to eat
and old friends best to keep !!
6 Rules to be HAPPY:
Free your heart from hatred;
Free your mind from worries;
Live simply;
Expect less;
Give more &
Always have ME as YOUR FRIEND !!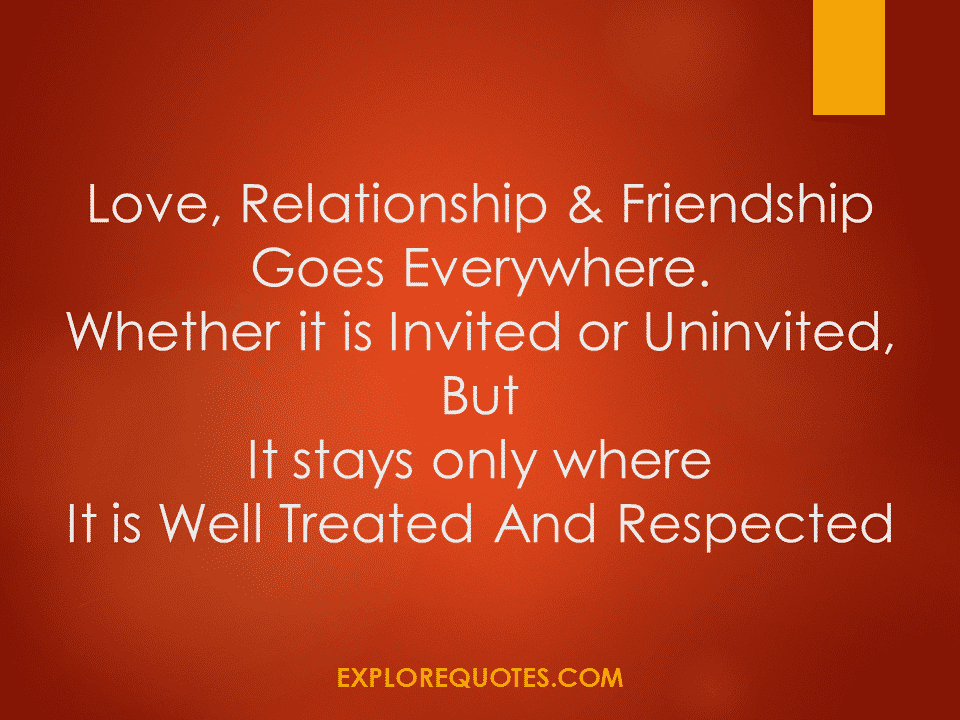 Love, Relationship & Friendship Goes Everywhere.
Whether it is Invited or Uninvited,
But
It stays only where It is Well Treated And Respected.
True friendship is seen through the heart,
not through the eyes.
Real friendship is shown in times of trouble,
prosperity is full of friends.
A cheerful friend is like a sunny day
spreading brightness all around. !!
Friendship is delicate as a glass.
Once broken it can be fixed
but there will always be cracks.
A friend encourages your dreams
and offers advice-
-but when you don't follow it,
they still respect and love you !!
A friend drops their plans
when you're in trouble,
shares joy in your accomplishments,
feels sad when you're in pain.
It takes a great deal of bravery
to stand up to your enemies,
but A great deal more to stand up to your friends.
He who loses money, Loses much;
He who loses a friend, Loses much more;
He who loses faith, loses all.
Money can't buy friends,
but you can get a better class of enemy.
Friendship is the Hardest thing in the world to explain.
It's not something you learn in school.
But If you haven't learned the meaning of friendship,
You really haven't learned anything.
A best friend is like a four leaf clover,
hard to find, lucky to have.
"You" is the most important word in any conversation.
Minimize the "I" and the "Me"
and focus on the "you."
You can make more friends in two months
by becoming interested in other people
than you can in two years
by trying to get other people interested in you
A great friend and a happy birthday.
That's what you are and
that is what I wish for you.
A friend is someone
who understands your past,
believes in your future,
and accepts you just the way you are
– even if you are getting older.
Being your friend is not about
agreeing with you on everything.
It's about telling you the truth
when no one else will,
even if you don't want to hear it.
Perhaps the most delightful friendships are those
in which there is much agreement,
much disputation, and yet more personal liking.
Friendship is
"More Clear than Water",
"More Pure than Gold",
"More Sweet than Honey",
So thank you for Sharing
God's Beautiful Gift With me.
Old friends pass away,
new friends appear.
It is just like the days.
An old day passes,
A new day arrives.
The important thing is to make it meaningful:
A meaningful friend – or a meaningful day.
Days are too busy, hours are too few,
seconds are too fast but there is always
a time for me to say hello & good luck
for a friend like you. Smile & enjoy life!
A good friend will be there
when you do crazy, stupid, foolish things
but a best friend will will help you make it
to where you need to go.
When your friends are ignoring you
that means they weren't your friends
from the beginning,
they were just acting like it.
The city is different,
The address is new,
But the doors always open
For dear friends like you!
When you find love, you will find yourself.
When you have the knowledge of love,
You will then feel peace in your heart.
Stop searching here and there,
The Jewels are inside you.
My friends, This is the holy meaning of love. !!
Dream a dream tonight as you sleep,
Smile a smile tomorrow that you may keep,
May all of your dreams and wishes come true
because I couldn't find a best friend like YOU. 🙂
Friendship is not something that is written on paper,
because paper can be torn.
It is neither something that can be written on a rock,
for even a rock can break.
But It is written on the heart of a person,
and it stays there forever.
Birthday wishes and blessings are coming your way, my friend!
It's the best feeling in the world
when you meet new friends
that you can't stand to be without.
That you constantly want to impress
to make them like you even more.
They make you hope every day
that they won't leave you.
Until that day when they actually do,
and you're lost without them.
You can't think about anything else
but when you are going to see them again.
I believe that friends are quiet angels
who sit on our shoulders
and lift our wings
when we forget how to fly.
Friends are the most important part of your life.
Treasure the tears,
Treasure the laughter,
but most importantly,
Treasure the memories.
One of the greatest things about being a teenager is the sharing,
the closeness and
the great times you have with your friends.
It can be hard to break the friendship code of secrecy
and make your friend mad at you,
but you must do what you feel in your heart is right.
We all take different paths in life,
but
No matter where we go,
we take a little of each other everywhere.
Never forget the days I spent with you.
Continue to be my friend,
as you will always find me yours.
There is not much that I can do,
but I can share an hour with you,
and
I can share a joke with you….
as on our way we go.
You have made known to me the path of life;
you will fill me with joy in your presence.
I hope we will be friends forever,
together we Will always be.
I don't think you understand
just how much you mean to me.
And one day when we part our ways,
we will think back to the past
and think about how happy we are
Because our friendship will always last.
If you have two friends in your lifetime,
you are lucky.
If you have one good friend,
you are more than lucky.
Do not pity the girl with one true friend.
Envy her.
Pity the girl with just a thousand acquaintances.
A friend shares the good times
and helps out by listening during the bad times.
A very special Friend of mine.
In my heart all the time.
To see your happy smile makes my life feel worthwhile.
warm and caring your feelings !!
I Am glad i have a friend like You!