Beautiful Quotes By Swami Vivekananda, Thoughts, Words Of Vivekananda
Beautiful Quotes By Swami Vivekananda 2020 : Are You Searching For Beautiful Thoughts By Swami Vivekananda To Share With your beloved one?. Then You Are At Perfect Place, We At Explore Quotes Have Collected Beautiful Words Of Vivekananda. The Following Words Best Describe This Page. Beautiful Thoughts Of Swami Vivekananda In English, Beautiful Thoughts By Swami Vivekananda ,Swami Vivekananda Beautiful Thoughts For You. Please Have A Look And Don't Forget To Share This Unique Collection On Facebook, Whatsapp If You Like It.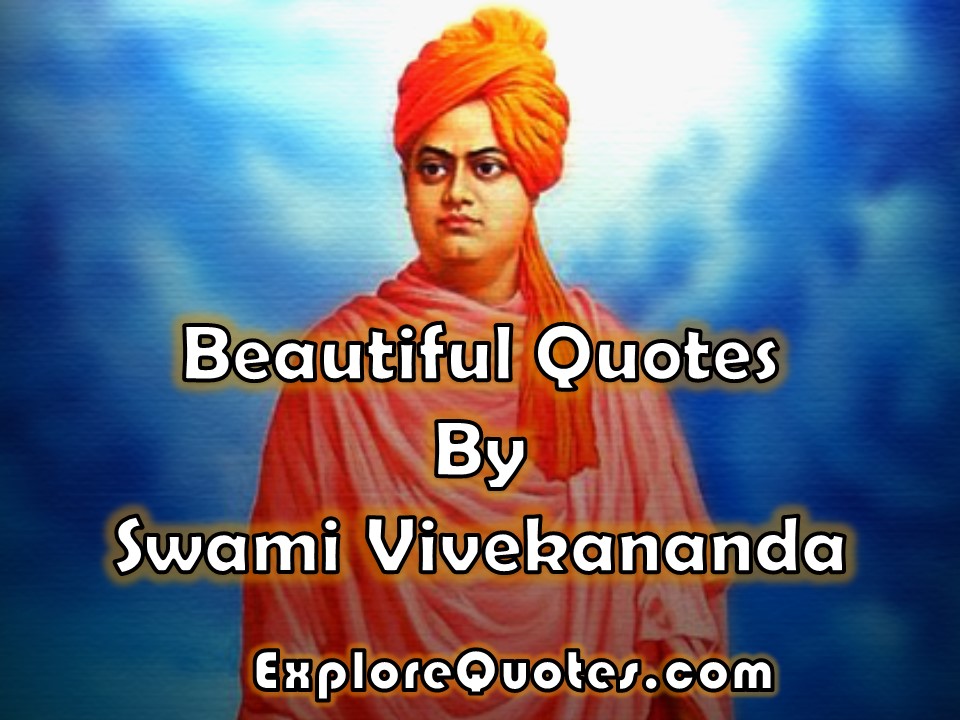 ---
Beautiful Quotes By Swami Vivekananda
---
When We Let Loose Our Feelings, We Waste So Much Energy, Shatter Our Nerves, Disturb Our Minds, And Accomplish Very Little Work.
---
The Less Passion There Is, The Better We Work. The Calmer We Are The Better For Us And The More The Amount Of Work We Can Do.
---
The Varieties Of Religious Belief Are An Advantage, Since All Faiths Are Good, So Far As They Encourage Us To Lead A Religious Life. The More Sects There Are, The More Opportunities There Are For Making A Successful Appeal To The Divine Instinct In All Of Us.
---
You Are The Soul, Free And Eternal, Ever Free, Ever Blessed. Have Faith Enough And You Will Be Free In A Minute.
---
We Are Ever Free If We Would Only Believe It, Only Have Faith Enough.
---
Learning And Wisdom Are Superfluities, The Surface Glitter Merely, But It Is The Heart That Is The Seat Of All Power.
---
This Is The Great Lesson That We Are Here To Learn Through Myriads Of Births And Heavens And Hells—That There Is Nothing To Be Asked For, Desired For, Beyond One's Spiritual Self (Atman).
---
Stand As A Rock; You Are Indestructible. You Are The Self (Atman), The God Of The Universe.
---
If Superstition Enters, The Brain Is Gone.
---
A Few Heart-Whole, Sincere, And Energetic Men And Women Can Do More In A Year Than A Mob In A Century.
---
You Have To Grow From The Inside Out. None Can Teach You, None Can Make You Spiritual. There Is No Other Teacher But Your Own Soul.
---
The Essence Of Vedanta Is That There Is But One Being And That Every Soul Is That Being In Full, Not A Part Of That Being.
---
So Long As There Is Desire Or Want, It Is A Sure Sign That There Is Imperfection. A Perfect, Free Being Cannot Have Any Desire.
---
However We May Receive Blows, And However Knocked About We May Be, The Soul Is There And Is Never Injured. We Are That Infinite.
---
This Life Is A Hard Fact; Work Your Way Through It Boldly, Though It May Be Adamantine; No Matter, The Soul Is Stronger.
---
Beautiful Thoughts By Swami Vivekananda
---
There Is One Thing To Be Remembered: That The Assertion 'I Am God' Cannot Be Made With Regard To The Sense-World.
---
The Mind Is But The Subtle Part Of The Body. You Must Retain Great Strength In Your Mind And Words.
---
All The Powers In The Universe Are Already Ours. It Is We Who Have Put Our Hands Before Our Eyes And Cry That It Is Dark.
---
Religion Is The Manifestation Of The Divinity Already In Man.
---
Astrology And All These Mystical Things Are Generally Signs Of A Weak Mind. Therefore As Soon As They Are Becoming Prominent In Our Minds, We Should See A Physician, Take Good Food, And Rest.
---
As Soon As I Think That I Am A Little Body, I Want To Preserve It, To Protect It, To Keep It Nice At The Expense Of Other Bodies; Then You And I Become Separate. First Get Rid Of The Delusion 'I Am The Body', Then Only Will We Want Real Knowledge.
---
Don't Look Back – Forward, Infinite Energy, Infinite Enthusiasm, Infinite Daring, And Infinite Patience. Then Alone Can Great Deeds Be Accomplished.
---
The Greatest Religion Is To Be True To Your Own Nature. Have Faith In Yourselves!
---
Every Individual Is A Center For The Manifestation Of A Certain Force. This Force Has Been Stored Up As The Resultant Of Our Previous Works, And Each One Of Us Is Born With This Force At Our Back.
---
You Cannot Believe In God Until You Believe In Yourself.
---
Nature, Body, Mind Go To Death, Not We. We Neither Go Nor Come. The Man Vivekananda Is In Nature, Is Born And Dies. But The Self We See As Vivekananda Is Never Born And Never Dies. It Is The Eternal And Unchangeable Reality.
---
More Thoughts, Quotes, Proverbs By Swami Vivekananda
---