Famous Quotations, Quotes, Thoughts Of Swami Vivekananda
Famous Quotes By Swami Vivekananda 2020 : Are You Searching For Famous Thoughts By Swami Vivekananda To Share With your beloved one?. Then You Are At Perfect Place, We At Explore Quotes Have Collected Famous Words Of Vivekananda. The Following Words Best Describe This Page. Famous Quotations Of Swami Vivekananda, Famous Quotes Of Swami Vivekananda, Famous Thoughts Of Swami Vivekananda For You. Please Have A Look And Don't Forget To Share This Unique Collection On Facebook, Whatsapp If You Like It.
---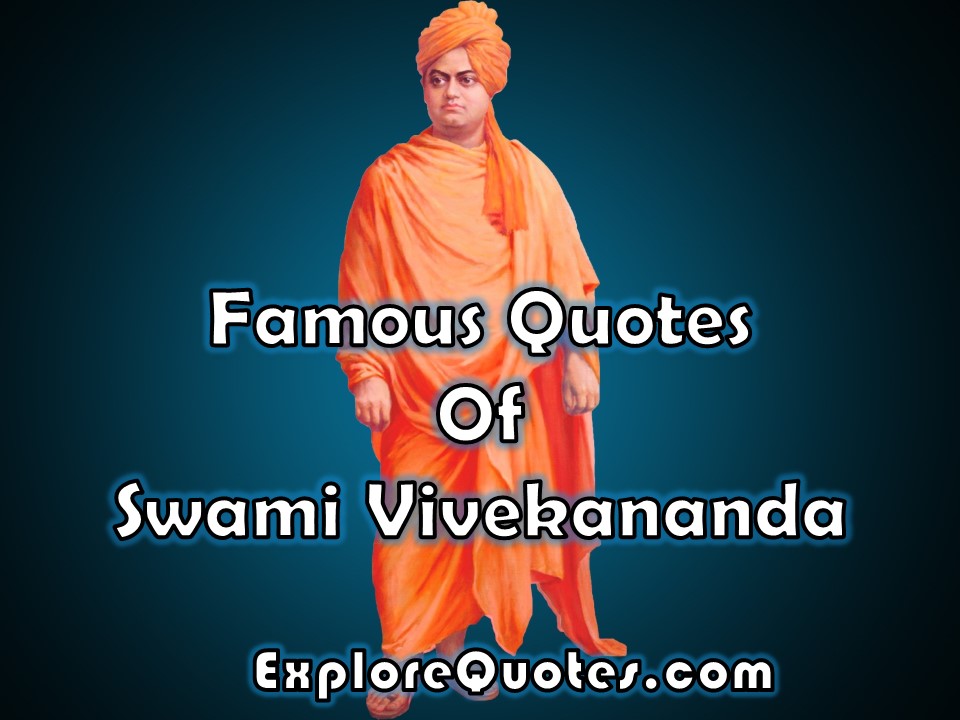 ---
Famous Quotes Of Swami Vivekananda
---
Even When You Sleep, Keep The Sword Of Discrimination At The Head Of Your Bed, So That Covetousness Cannot Approach You Even In Dream. [Here's A Nice Post On The Why North Is Not The Best Sleeping Direction]
---
Condemn None: If You Can Stretch Out A Helping Hand, Do So. If You Cannot, Fold Your Hands, Bless Your Brothers, And Let Them Go Their Own Way.
---
Our First Duty Is Not To Hate Ourselves, Because To Advance We Must Have Faith In Ourselves First And Then In God. Those Who Have No Faith In Themselves Can Never Have Faith In God.
---
Look Upon Every Man, Woman, And Everyone As God. You Cannot Help Anyone, You Can Only Serve: Serve The Children Of The Lord, Serve The Lord Himself, If You Have The Privilege.
---
The Will Is Not Free – It Is A Phenomenon Bound By Cause And Effect – But There Is Something Behind The Will Which Is Free.
---
There Is No Limit To The Power Of The Human Mind. The More Concentrated It Is, The More Power Is Brought To Bear On One Point.
---
Even The Greatest Fool Can Accomplish A Task If It Were After His Or Her Heart. But The Intelligent Ones Are Those Who Can Convert Every Work Into One That Suits Their Taste.
---
If There Is One Word That You Find Coming Out Like A Bomb From The Upanishads, Bursting Like A Bombshell Upon Masses Of Ignorance, It Is The Word "Fearlessness."
---
First, Believe In The World—That There Is Meaning Behind Everything.
---
"Face The Brutes." That Is A Lesson For All Life—Face The Terrible, Face It Boldly. Like The Monkeys, The Hardships Of Life Fall Back When We Cease To Flee Before Them.
---
As Long As We Believe Ourselves To Be Even The Least Different From God, Fear Remains With Us; But When We Know Ourselves To Be The One, Fear Goes; Of What Can We Be Afraid?
---
Famous Thoughts Of Swami Vivekananda
---
The World Is Ready To Give Up Its Secrets If We Only Know How To Knock, How To Give It The Necessary Blow. The Strength And Force Of The Blow Come Through Concentration.
---
The Land Where Humanity Has Attained Its Highest Towards Gentleness, Towards Generosity, Towards Purity, Towards Calmness – It Is India.
---
This Is The First Lesson To Learn: Be Determined Not To Curse Anything Outside, Not To Lay The Blame Upon Anyone Outside, But Stand Up, Lay The Blame On Yourself. You Will Find That Is Always True. Get Hold Of Yourself.
---
This I Have Seen In Life—Those Who Are Overcautious About Themselves Fall Into Dangers At Every Step; Those Who Are Afraid Of Losing Honor And Respect, Get Only Disgrace; And Those Who Are Always Afraid Of Loss, Always Lose.
---
Those Who Work At A Thing Heart And Soul Not Only Achieve Success In It But Through Their Absorption In That They Also Realize The Supreme Truth—Brahman. Those Who Work At A Thing With Their Whole Heart Receive Help From God.
---
I, For One, Thoroughly Believe That No Power In The Universe Can Withhold From Anyone Anything They Really Deserve.
---
Fear Is Death, Fear Is Sin, Fear Is Hell, Fear Is Unrighteousness, And Fear Is Wrong Life. All The Negative Thoughts And Ideas That Are In The World Have Proceeded From This Evil Spirit Of Fear.
---
Desire, Ignorance, And Inequality—This Is The Trinity Of Bondage.
---
Great Work Requires Great And Persistent Effort For A Long Time. … Character Has To Be Established Through A Thousand Stumbles.
---
More Thoughts, Quotes, Proverbs By Swami Vivekananda
---