Are you looking for exploring best friendship messages to share with your beloved one? Then you are at a perfect place where you can discover the wide range of friendship messages which will help you share your feelings to your beloved ones and cheer your friendship.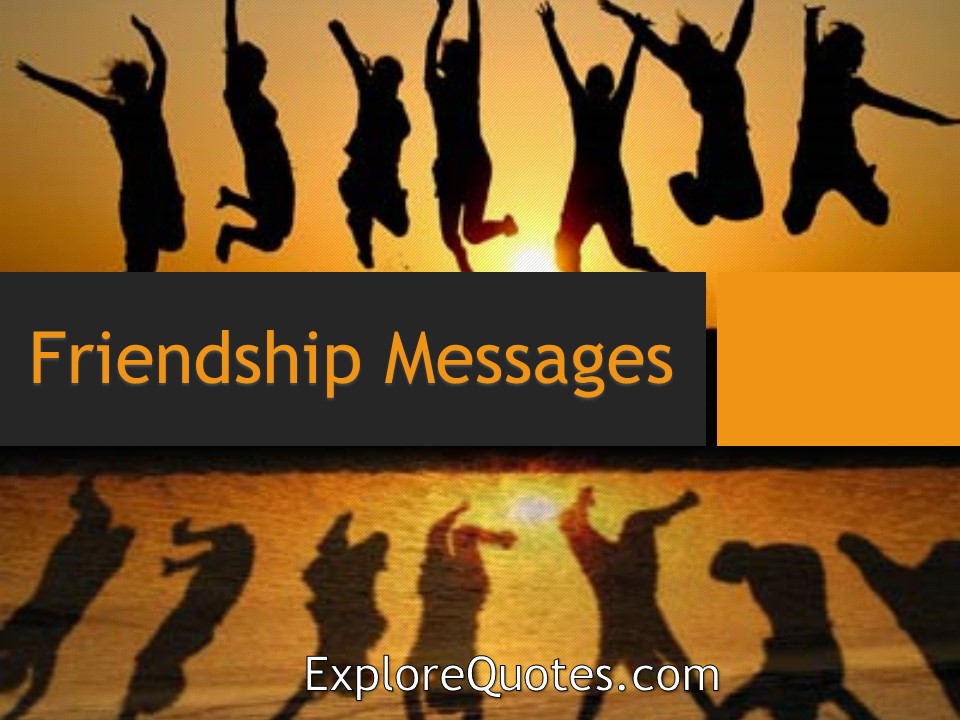 With a best friend
you can talk all the nonsense things of the world
without worrying about
any kind of rejection from your friend.
Best friend is the only person
that knows all of your drawbacks,
but
he still loves you more than the entire world.
A good friend may fight with you
and he can change when you change,
But
A best friend will point out all of your mistakes
and he will never let you do anything
that is not good for you.
In a negative situation
entire world can go against you,
but
A best friend will always stand by your side.
A best friend is not a person whom you know,
since a very long time,
but
He is a person that comes into your life
and never leaves you alone in any situation.
A true friend will always try
to take all of your sorrow
and will try give all of his happiness to you,
just to make sure you are happy.
When you do not say a single word,
but Your friend understands
each and everything is called the true friendship.
A good friend will ask you
if you can do this work for me,
A best friend would say buddy,
you have to do this for me
and you got no other option.
In a friendship,
nothing is yours or mine,
it's always ours and
best friend live their life in this way only.
A best friend will never need
an explanation from you in any situation
and if need it,
he is not your best friend.
Once In A While We Meet Someone
Who Makes Us Feel So Good
Who Seems To Understand Us
In A Way Few People Could Someone Who is Truly Glad For Us
When Things Are Going Well Who's Always There To Listen
When We Are Something
Now To Tell Once In a While,
We Find Someone  On Who We Can Depend
I Know Because  I Found In You A Truly Wonderful .!!
Trusting a friend should be like
the belief of a one year old child.
When you throw him in the air,
he laughs because he knows
you will catch him.!!
SO many talks on an issue..
SO much fun of a single innocent friend..
SO many friends on 1bench..
SO much laughter on 1stupd joke..
SO many calls and messages on birthday night..
SO many hugs for one little worry..
SO much love for just one person..
SO many tears for one little fight..
Really!! "friends are the best part of our small life".!!
Friendship grows out of chance
Meeting a mere glance
& Then a smile
& Touches the heart in
More ways than one
Isn't it great
How We have grown
From being perfect strangers
To who We Are today
I am fortunate to have found
A wonderful Friend like YOU
Happy Friendship Day.!!
Weathers are few but spring is good,
Animals are many but butterfly is lovely,
Flowers are too many but rose is beautiful,
Foods are thousands but honey is sweet
an Friends are much but you are the best.!!
Definition Of My Friends
My Medicine When I Was In Pain
My Smile When I Am Sad
My Hanky When I Cry
And One More Breath When I Die
Long Live My Friends.!!
When You get hurt by The Person Who Is Close To You,
Do Fight With Them.
Coz Sometime These Fights Saves The Relation.
But Being Quiet Leaves Nothing In The Relation.!!
Weakly One Day Holiday
Monthly One Day Salary Day
Yearly One Day Birthday
Lively One Day Death Day
But Sharing
Friendship Is Every Day.!!
Friends Are Like Morning
You May Share With Dem
Only A Few Hours of The Day
But You Know That They Will
Always Be There tomorrow,
The Next Day and the Day After, Forever.!!
God Wanted to make A Person Full of Love
He Made Mother
A Person Full of Support and Encouragement
He Made Father
Someone Who Can Offer Help Always
He Made Brother
Someone to Play Pranks & Add Joy
He Made Sister
Then God Decided to Make a Special Person
Who Has All the Qualities Together All In One
So He Made Friends Friendship Forever.!!
I don't need words to express
I don't need tears to shed
I don't need to ask for a smile
Or a hand to hold me
All I need is to be your friend, forever.!!
I made a list of my dearest person,
And I wrote them down in pencil,
I included your name but wrote it in permanent ink,
Because i decided to keep You in my list forever.!!
Love your love so much that You Don't have to ask,
'With whom u were?'
And trust your friend that much that
You Don't have to tell,
'Don't tell this to anyone'.!!
A cute thought for those
who believe in friendship
It's not necessary to share
every secret between true friends
but it's important that whatever you share is true.!!
The wrong kind of people
dislikes you for the good in you
And
The right kind of peoples like you
knowing even the bad in you.
That makes a Friendship strong.!!
Friendship doesn't occurs with special people,
people becomes special after becoming friends,
Just wanted to let you know that
You are very "Special" to me.!!
True friends are those,
Who care without hesitation,
Who remember without limitation,
Who forgive without explanation &
Who trust without communication.!!
MY friendship is just like a rubber band,
It is too flexible,
Stretch it as much as you can,
but if you leave it, it will hurt you a lot, really a lot.!!
Before I got in touch with you,
I used to gaze at stars as they were only my friends,
But after I met you, I started believing,
that stars do fall on Earth.!!
Friendship is a promise spoken by the heart
is not given by pledge, nor written on paper,
but promise renewed every time friends keep in touch.!!
Friends are like bum cheeks.
Crap might separate them,
But they always come back together.!!
Think of me and keep in mind
A faithful friend is hard to find
But if you find one equal and true
Never leave him for the new.!!
To live a life i need a heartbeat,
To have a heartbeat i need a heart,
To have a heart i need happiness,
To have happiness i need a friend,
For a friend i need You.!!
You make 10 friends,
Laugh with 9,
Meet 8 of them,
Talk to 7,
Celebrate with 6,
Share secrets with 5,
Trust 4,
Cry with 3,
Take help of 2,
But never forget 1 like me.!!
Longest LOVE is Mother's LOVE,
Shortest LOVE is other LOVE,
Sweetest LOVE is Lover's LOVE,
but strongest LOVE is FRIEND LOVE.!!
Never walk away from a true friend,
When you see some faults,
be patient & realize that nobody is perfect,
It's affection that matters, not perfection.!!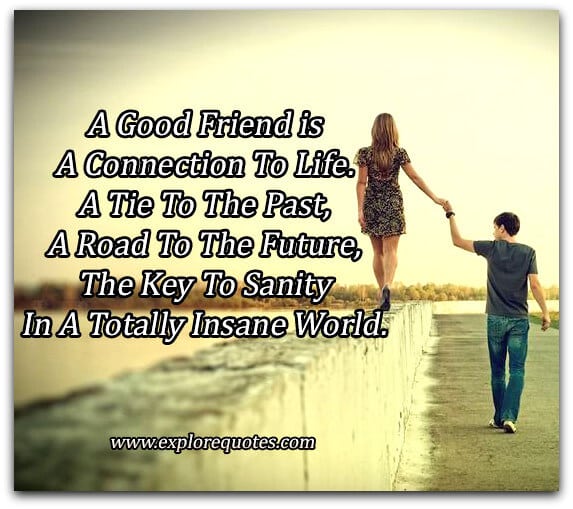 A Good Friend is a Connection To Life.
A Tie To The Past,
A Road To The Future,
The Key To Sanity In A Totally Insane World.
95 Days After My Birth, I Knew Who Is My Mom,
90 Days After My First Syllable, I Knew What Words Are.
30 Minutes After My Loved One Left Me, I Knew What Tears Are..
25 Feet Off The Ground Over The Cliff, I Knew What Is It To Be Alive,
20 Days After My Dear one's Death I Knew That Life Must Go On..
3 Weeks After My Friend Left Me I Came To Know How Does It Feel To Be Alone..
Every Single Fraction Of Time No Matter However You Divide, Teaches You Something..
Experience Is The Only Way To Get Through This Life..
Feel It. Live It. Face It….
Love People Unconditionally..
Because in Next Life You Won't Meet Me…!!
Somehow I know we will meet again.
Not sure quite where and I don't know just when.
You're in my heart,
so until then it's time for saying goodbye.
One day at a time, this is enough.
Don't look back
and grieve over the past for it is gone.
Do not be troubled about the future,
for it has yet to come.
Live in the present and make it so beautiful that
it will be worth remembering.
My friends have made the story of my life.
In a thousand ways
they have turned my limitations into beautiful privileges
and enabled me to walk serene
and happy in the shadow cast by my desperation.
Never shall I forget the days I spent with you.
Continue to be my friend,
as you will always find me yours.
We laughed until we had to cry,
we loved right down to our last goodbye,
we were the best.
A friend is someone
who reaches out for your hand
and touches your heart.
No one knows the exact moment
when a friendship is formed,
but it is this silent forgotten moment
that causes the pain
when we must say goodbye.
A friend is someone you can be alone with
and have nothing to do
and not be able to think of anything to say
and be comfortable in silence.
Our memories of yesterday will last a lifetime.
We will take the best,
forget the rest,
and someday will find that
these are the best of times.
We have shared our happiness
and we have shared our fears.
We have shared so many things
throughout the years.
And when the times were hard
we were by each other's side.
You were there to make me laugh when I cried.
A true friend is someone
who thinks you're a good egg,
even though they know
you're slightly cracked.
Silences make the real conversations between friends.
Not the saying,
but the never needing to say is what counts.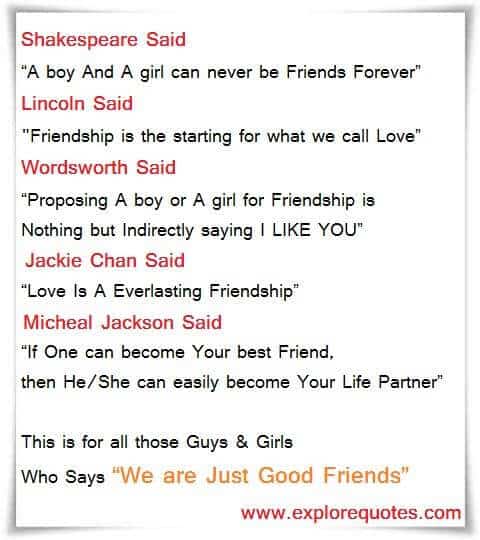 Shakespeare Said
"A boy And A girl can never be Friends Forever"
Lincoln Said
"Friendship is the starting for what we call Love"
Wordsworth Said
"Proposing A boy or A girl for Friendship is
Nothing but Indirectly saying I LIKE YOU"
Jackie Chan Said
"Love Is A Everlasting Friendship"
Micheal Jackson Said
"If One can become Your best Friend,
then He/She can easily become Your Life Partner"
This is for all those Guys & Girls
Who Says "We are Just Good Friends"
Remember me with smiles and laughter,
for that's how I'll remember you.
If you can only remember me in sadness and tears,
then don't remember me at all.
It's really amazing
when two strangers become the best of friends,
but
it's really sad
when the best of friends become two strangers.
A friend appreciates the good in you,
overlooks the worst in you,
and brings out the best in you.
Some acquaintances sweep into and
out of your life like a storm.
The true friends are those who, like the sunshine,
wait behind the clouds for a chance to shine through.
Everyone hears what you say;
Friends listen to what you say;
Best friends listen to what you don't say.
It doesn't matter if you have five friends
or five-thousand friends.
When it all comes down to it,
popularity means nothing.
All that matters is that
you know those five will be there
holding your hand,
as the five-thousand walk by.
The friend who can be silent with us
in a moment of despair or confusion,
who can stay with us in an hour of grief and bereavement,
who can tolerate not knowing,
not curing, not healing,
and face us with the reality of our powerlessness.
That is a friend who cares. !!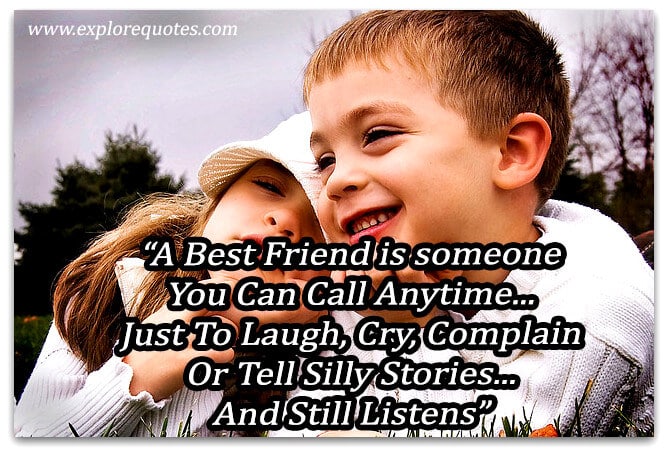 A Best Friend is someone you can call anytime…
Just to laugh, cry, complain or tell silly stories…
and still listens.
I know we will be friends for life,
sharing our dreams together.
As we walk down the road,
we'll never think twice,
these memories are made forever.
And though we're off to different worlds,
somehow we're together…
because deep within our heart…
these memories are made forever.
You know a friend is found
when you are happy to see them.
You know love is found
when it hurts to leave them.
I have learned that goodbyes will always hurt,
pictures will never replace being there,
thanks is a feeble word,
memories forget the hard times,
words can never replace feelings,
and heroes often go unsung.
Friendships that last are those where
in each friend respects the other's dignity
to the point of not really wanting anything from them.
Yesterday brought the beginning,
Tomorrow brings the end,
though somewhere in the middle
we became the best of friends.
Close friends are truly life's treasures.
Sometimes they know us better than we know ourselves.
With gentle honesty,
they are there to guide and support us,
to share our laughter and our tears.
Their presence reminds us that we are never really alone.
"A farewell is necessary before we can meet again,
and meeting again after moments
or a lifetime is certain for those who are friends".. !!